As the racers leave the low desert, three things come to mind. The first being the change in scenery as the desert vistas give way to the vistas filled with greenery. The next thing that will fill the racers minds are the two major climbs looming ahead. The Yarnell grade climbs 1800 feet in 7 miles. It's hot, it's long, it's steady, it's curvy, it's the Yarnell Grade. The California and Arizona heat by now will have done a number on the racers but the cool of the night will be rejuvenating to the racers.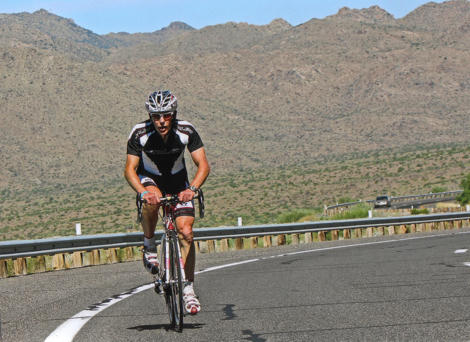 The racers will pass through Wilhoit, which is literally the center of Arizona where the second climb begins. The climbs in this segment are more than 130 feet per, which is the most challenging climbing the racers have faced.
The climbs will take the riders into Prescott, which is nestled at an elevation of 5,200′ feet above sea level amongst the largest stand of Ponderosa pine forests in the U.S.. Prescott provides breathtaking landscapes complete with granite mountains, lakes, streams, and rolling meadows filled with wildlife.
Once the capital of the state, Prescott is rich with history embodied in its world famous Whiskey Row and abundant historical landmarks. Prescott provides a rich history related to Wyatt Earp, Doc Holliday, and cowboy forays in the most famous saloons of the Old West.  Upon arriving at TS07, the racers will have completed 441.1 miles with 2,552.4 miles to go. Continue